A warm welcome to St Peter's Collegiate Academy.
I am truly delighted to have been appointed as the Interim Principal of St Peter's Collegiate Academy.
This is an Academy that has a proud tradition for helping students to develop as well rounded individuals who thrive as a direct result of the strong Christian Ethos.  Alongside this, it has a rightfully strong reputation for helping students achieve some outstanding academic success.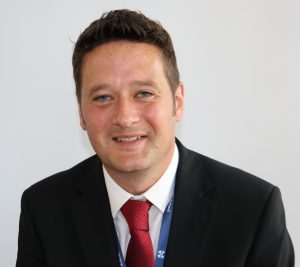 'In everything, do to others what you would have them do to you.' Matthew, Chapter 7, Verse 12.  I have a firm belief that we should treat others as we would have them treat us and I always aspire to be a school leader who works alongside students, staff, families, carers, and the community to promote an ethos of co-operation because ultimately it is through co-operation that we can grow together.
I strongly believe that outstanding schools are built on academic rigour, a love of learning, participation in the Arts and on the sports field, climbing up mountains, and grasping opportunities to celebrate achievements.  There is endless potential for St Peter's to be an outstanding Academy and the journey towards this should be a fun and fulfilling one for all stakeholders to be a part of.
I have three young children of my own and I pride myself on making decisions in the Academy with three hats on.  The questions I always ask myself are; 'What would I do as a Principal/Headteacher?  What would I do as a Colleague? And what would I do as a Dad?'  This usually stands me in good stead and ensures that there is a common thread of fairness, standards, aspiration, and decency that are evident in my actions.
Mr. Arnold
Interim Principal